Hey everyone! Just like you guys are addicted to coffee, alcohol, chocolates or cigarettes, I am so addicted to writing blogs these days, it gives me so much more pleasant than what I actually have to do. I really wish travel blogging was my full-time job but sadly the world is not a wish-granting factory. Just as it is peak tourist season for travelers now it is peak assignment season for accidental frustrated college students like me.
I know I am a century late in writing this post. I should have written this post several months ago. These delays and forgetfulness are making me realize that I am growing older day by day. I am experiencing the effects of aging already to the extent I am having a generation gap with my own chronological peers these days lol. I wish I could turn back time to the good old days when I was young, wild and free.
Anyway, I decided to write this post when I was having a conversation with my dad today over the phone about an incident which took place during our Christmas 2017 trip to a few places in Kerala which had another big deception story. To read my previous one in Kuala Lumpur read the post Escape from deception point.
For Christmas, my parents and I decided to visit Kerala. We went to Kottayam, Kumarakom, Thekkady, and Cochin. It was a wonderful vacation overall except for the fact that the weather was so hot that I felt like a brownie that got overburnt in the oven even during winter. South India except for Karnataka does not have winters. The so-called South Indian winters which are pleasant are hotter than American and European summers.
The homemade chocolate that I had bought on my way back had all melted and I had to throw them away at the airport. I know you guys would want to give me mouthfuls like a diehard chocoholic friend of mine did (terrible decision for telling them I know) but I find melted chocolates extremely disgusting and gooey.
The incidents are preceded by questions because I have learned that we as tourists must ask ourselves these questions if we want to drive our cars on smooth roads during trips and avoid bumps. Sometimes we do not see these bumps coming and we cannot prevent them. But these questions do work as prevention measures against them:
1. Are the pictures of the hotels you are seeing on these hotel booking websites real?
Let me be real, trusting those pictures is a huge gamble.
You may want to bash me up for taking names and hotels of websites but I don't care because I want to make prospective travelers more cautious. That's the whole point of a travel blog to spread awareness among your fellow travelers. My father usually books hotels through Trip Advisor and so far our experience with them has been smooth until this incident.
We booked this hotel called The Backwater Retreat which is located on the border between Kottayam and Kumarakom, Kerala. The room cost was 5000 INR(approx 70 USD) per night. Since this was mainly going to be less of sightseeing and more of a resort vacation my father decided to book it despite the high price. I was very skeptical about this hotel because 5000 INR is indeed a very high price for a three-star resort in Kerala. Kerala is one of the states in India where almost everything is available at a low price.
I stayed at a premium four-star hotel in Kolkata and a five-star hotel at Kuala Lumpur(Read about my experience here) for that same price or lesser in metropolitan cities. I knew there was something fishy and I could not sleep that whole night. Either it was a very fancy three-star resort with a lot of facilities or we were going to be in for an ugly surprise the next day. The latter was what my gut was telling me.
The next morning when we reached I realized that my worst fears were worse than I imagined them to be in reality. It was a small and traditional two-storeyed bungalow which had been converted into a hotel. When I entered the room I am not kidding it was the smallest hotel room I had ever seen in my whole life and everything inside the room was obsolete. Be it the bolt of the door or the appliances and the apparel in the bathroom. There were two single beds and very less space for an extra bed. The dining area was the small space between the backyard and the hotel or I may say house entrance. It did not strike me at that moment to take pictures because I was too angry and upset.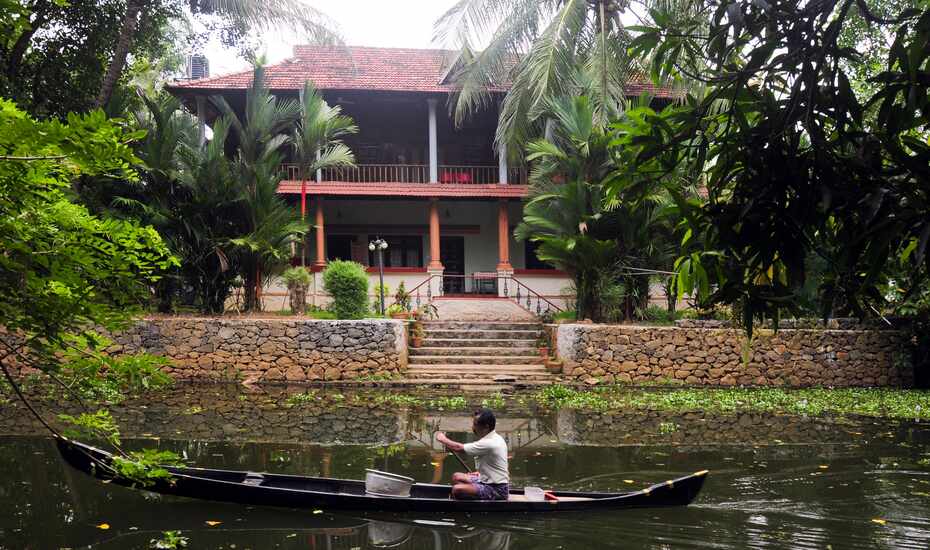 My reaction was that of immense appall and anger. I then had a fight with my parents but it was not their fault ultimately as the pictures were all sugarcoated to a different level and we were all deceived. I argued with the hotel staff which I shouldn't have done but that was my immediate reaction after being cheated to this extent. They offered us an upgraded room at the same price on the first floor. The upgraded room was much bigger and better but definitely not worth 5000 INR. The hotel had no recreational activities at all. Even the hotel menu was terribly disappointing as they mostly only had basic dishes.
I was adamant that I would not stay in this hotel so the hotel staff made up for it by suggesting a four-star resort which was located in Kumarakom called Lakshmi Resorts. They even arranged transportation to the resort. When my father complained to TripAdvisor we got a partial refund of the advance amount though. We could not get a full refund due to their policies.
When we went there the entrance seemed good. I went to check out the whole resort and the rooms. Trust me, this hotel more than made up for the previous bad experience. We got a villa which had a suite sized room and a balcony with tea tables priced at just 3000 INR. Even though this resort was not very big and did not have much of activity other than some ayurvedic treatments and therapies the room was so nice and cozy that I even skipped some of the sightseeing on this trip. It was so close to nature that I spent two of the three evenings on this vacation taking walks across the resort. The villa had swings too but I am too old and big in size for them.
Take a look at some of the pictures of the resort.All these are taken from hotel booking websites online since this post is about the same
I wanted to write negative reviews about The Backwater Retreat on Tripadvisor but the staff made up for what they did so I did not write anything.
If you have ever been cheated at all in any life situation keep reading this post and my other post to know that you are not alone. Each time you get cheated you become more cautious even though it is the worst feeling in the world. As someone commented on my previous blog post getting cheated can be a good thing because it gives travel bloggers like me some content to write and some stories to tell.
So, whatever happens, does happen for the good else this post and my previous post on Kuala Lumpur wouldn't have been possible.