Featured image source:www.doubletree3.hilton.com
If you have read my previous post about the series of unfortunate events I encountered before my flight you may have noted I mentioned about staying in Hilton hotel. After all that  havoc with diarrhoea and the ordeal I went through at the airports, all I needed was a good hotel to stay in.
The entrance to the double tree by Hilton hotel in Kuala Lumpur.Photo source: Kuala Lumpur Government website.
I am glad I booked double tree by Hilton because that was the best thing I could have ever asked for at that moment. It exceeded my expectations in every way and this was one of the very few hotels which I felt was worth more than the price we paid.
When the cab driver dropped us off at the entrance and one of the staff picked up our luggage and escorted us into the hotel, I was mesmerized by the sight of the hotel.I had never stayed in a hotel like that before . I couldn't help feeling proud of myself because I booked this hotel. Yay !I can book good hotels too. I'm a broke girl so don't judge me for going gaga over Hilton.
The Intermark mall Kuala Lumpur,the building was way too tall  for my height,camera and photography skill level.
Anyway, the hotel is located inside the Intermark Mall. Interesting isn't it !This is the second time I am staying at a mall though , the first time being at Bhimavaram in Andhra Pradesh, India when I had gone to attend a wedding.
It is located in Jalan Tun Razak and is connected through an overway to Ampang Park mall and metro station.The over way is really long and has several different staircases to different parts of that road which made moving around the area very convenient for us.
The over way lead to the hotel lobby while the entrance in the below picture lead to the last floor of the intermark mall.
The front view of the Intermark mall and the hotel. Photo Source:Staronline.com
Here are a few pictures I clicked inside the mall-:
Ye
Yes, that is me trying to pose at a cafeteria.
The entrance led me to the top floor of the mall above which was the hotel lobby. It was incredibly huge. We were welcomed with a giant chocolate chip cookie which I took a picture of but had to delete due to lack of storage for better pictures. I never planned on doing this blog post earlier it was an impulsive decision.
The hotel cum mall has 35 floors on the whole. The first 10 floors are the mall and a few offices and next 25 floors are the hotel. There was a hotel lobby which isn't counted as a floor. The outdoor swimming pool, gymnasium and ballroom are located on the 10th floor. The rooms begin from the 11th floor where Makhan kitchen the hotel's most popular restaurant is located. Apparently the hotel has a few other bars and restaurants also.
My favourite part of the ultra huge lobby these seats here face a stage where gigs would take place at night. I got the opportunity to enjoy a gig here on my last night at Kuala Lumpur.
We were allotted a room on the 20th floor. I saw 2017 written on the electronic key card and I asked my dad what our room number was . I had assumed that they write the year on the key card. My dad said 2017.I asked are you sure that's not the year and I was proved wrong when we were escorted into our room. The room number co-incidentally matched the year. Another amazing co-incidence isn't it ?
My room number matches the year yay!
I jumped on the bed the moment we entered the room.
Our hotel room
View of my room
Guess what ?I felt I could have saved myself tonnes of space in the suitcase by not carrying some of the stuff which I carried because they provided us with almost all the essentials. I don't know about other countries but the hotels in India which I have stayed in India offered towels, soap, shampoo, moisturizer, shower cap and in some places a sewing and a dental kit. This hotel had all the stuff which I just mentioned plus two pairs of bathroom slippers, two bathrobes, a weighing machine, a safety locker, a loofa and hair oil
The room service was the most efficient I have ever seen in my whole life they wouldn't take less than two minutes to arrive when you called them for something. Plus, this was the first hotel which didn't have or need a 'please clean my room' sign. The reason is obvious they would clean our room without fail each time we went out for long hours. I don't know if the hotel staff have the power of telepathy or whether they have a particular time for cleaning. Each time they cleaned our room would have a new set of slippers and bathrobes and when we left we had 4 bathrobes and six slippers. We spent 2 nights and 3 days at Hilton. We even took away 2 pairs of slippers which we ultimately had to discard while weighing our luggage to go back home.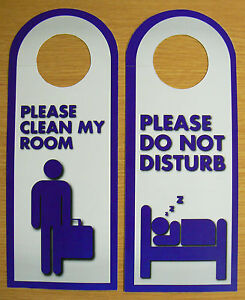 These two sign cards do not exist in Hilton because they aren't needed. Image Source: Ebay UK
Free bathrobes in the hotel for the first time in my life ever.
We had a room with the view of almost the whole city. I didn't feel like I was in Kuala Lumpur at all I felt like I was in Dubai or Singapore.
View from my room
View from the window right outside my room during the day time
View from the window right outside my room during the night.I know I am not good at night photography.
One of the other windows outside our room was facing the swimming pool which I unfortunately didn't have the time to use and I didn't bother carrying a swimming costume either. But my dad is a passionate swimmer and he would wake up early in the morning to go swimming.If I had the time I would have loved to chill by the swimming pool with a drink. It's great place to chill in the mornings, especially if you would like to get a tan.
I didn't capture a picture of the swimming pool so once again you will have to make do with the ones I took from online
Image Source:www.doubletree3.hilton.com

View of the swimming pool from the top floor. Image Source:www.doubletree3.hilton.com
I heard that the food menu is pretty interesting there but free breakfast wasn't included in our room cost. Which meant that we had to get our meals from the Intermark mall food court.
The first time I landed there I decided to go for the safest option-Indian food. My lunch on the first day-roti, pakoda, paneer tikka and chutney.
Bonjour-the French bakery was our breakfast provider during our next two days in Kuala Lumpur it has a wide variety French savouries and desserts. I loved the ambience of this restaurant.
I had Korean food for dinner on my last night in Kuala Lumpur. A decision I ended up regretting as the watermelon and the bowl of egg salad were the only edible items on this tray. It tasted bland which doesn't suit Indian taste buds. I am used to a lot of flavour in everything I eat.
It had beautiful pieces of art in on wall which is the best thing an art aficionado like me could have asked for. The lobby also had a few beautiful sculptures which I really loved.
Art piece in the lobby
Sculpture in the lobby
There was extremely tight security which really fascinated me. The lift would not take you to the floor you wanted to go to unless you swipe your key card in front of the automatic sensor in the lift. I am pretty sure there are stairs because what would people do in case there was a fire ?But the hotel was bigger than my patience and energy to try finding it.
There's a sauna, a gym and a ballroom in the hotel. On my first night at Kuala Lumpur, it was about 1 am in the night/morning(I don't what you call it) when we returned to the hotel since we stayed back at the KLCC(twin towers) mall to watch the sound and light show at the fountain. It looked way too gorgeous while changing colours that I couldn't resist staying back until it was over.
The musical fountain at KLCC twin towers.
The musical fountain while changing colours. Malaysian midnight scenes are really gorgeous.
I captured a video of the entire thing which I shall upload soon so that you guys can also experience the magic.
I totally forgot that I had a cone of frozen yogurt in my hand while I was watching it that it entirely melted. That's how much it's beauty got me engrossed.
Anyway getting back to the point I saw a bunch of teenagers dressed in suits and gowns who were going back home when I reached the hotel. I am assuming that the hotel ballroom is a popular place for proms, parties and school dances.
Lastly the cost details:
A standard double room cost us 3500 Indian rupees per night(48 USD,35 UK pounds and 70 AUD) which is the best deal ever for a Hilton hotel and July is apparently peak tourist season in Malaysia. Whereas, in India we can only get three star hotels at this price irrespective of whether it's tourist season or not.
I think I got it for a great price considering that I booked through Booking.com. Trust me this site offers hotels at the best prices ever. Because, when I checked other hotel booking sites they quoted higher prices. So ,I highly recommend it to you guys in case you plan to stay at a hotel.
I am not sure about the meal costs though but as I mentioned earlier this price isn't inclusive of any meal at the hotel. But then that wasn't a problem at all for us as the Intermark mall food court has a wide variety of restaurants/food shops of cuisines from most parts of the world. Vegetarian food is available in most of the places there.
Also, I loved the area where it was located. I got to witness an amazing nightlife because of the way the entire area was lit up at night. The area full of skyscrapers which are either office buildings, hotels or condominiums and you feel like you're in New York when you walk around them at night. It is only a 10 minute walk away from the twin towers which is why I was able to stay till late at night to watch the sound and light show. I couldn't get good pictures at night unfortunately.
Petronas twin towers at night. Once again excuse my being inept at night photography.
It isn't located very far away from the important points of interest even though it did take us a long time to travel considering that we made late starts and got stuck in traffic.  I mentioned in my previous post about Kuala Lumpur traffic being no different from traffic in the Indian cities in the morning and evening.
I don't have anything to complain about this hotel but please don't think my trip was all milk and roses because I wouldn't have had so much fun if it was. This was in fact one of the very few rosy parts of this entire sojourn. I shall share some of my other adventure stories soon. So stay tuned and have a great day !