Let's take a break from my street photography challenge posts !Even I am bored of them now.
I mentioned a travel in my previous post.I went to Malaysia.I had a wonderful time there but the ending was tragic-I had to come back. But I had a horrendous 12 hours before my trip. Please read on to know why.I didn't know how I was even going to survive in Malaysia and in the end things turned out fine. Read on to know everything.
I think making lists will make things easier to read,so I m listing out all the unfortunate events.
1.I was supposed to leave for the airport at 7:30 pm and diarrhoea had to strike me at 5 pm.
I was so worried. My flight was at 11:30 pm and that is the peak hour at the airport. I would have to stand in the check in and the passport stamping queue for at least 1 hour each.
That's why I left for the airport at 7:30 besides I live 15 kms away from the airport and it was peak traffic hour. If I ate or drank anything I would get soiled ,if I didn't I would pass out due to dehydration. I was foreseeing the most tragic event of my life and I somehow had to prevent it.I didn't want either to happen.
I really worked hard on this trip. This is the first trip that is entirely planned and organised by me. It took me several weeks of hard work, research and convincing my parents to either take me or let me go by myself. Considering that I'm a young college going Indian girl the former is what happened .The latter is not likely to occur with 90% of Indian parents.
You're going to be like why didn't you go solo on a group tour ?Yes, I devoted exactly two weeks to researching international group tour packages but everything was ultra expensive and I didn't think it was worth spending so much for Asian countries. Hence, I decided to plan the trip on my own and my dad agreed to accompany me.
Image Source: India Mart
Okay, getting back to the point . I took every digestive that existed in my medicine chest but nothing worked. Finally ,I decided that I would buy some Andial on the way to the airport which saved me from possibly the most embarrassing and tragic event of my life.I was about to pass out due to exhaustion(I couldn't sleep a wink in the flight) in the passport stamping queue at Kuala Lampur airport when I landed.Once I got my passport stamped I felt like I had stepped out of another person.I don't know what magically happened but I felt happier and more energetic than ever.
So, MAGIC DOES EXIST after all. Stop telling me that it's all fiction and fantasy !
2.Air Asia's baggage check in policy-The worst of all airlines
When I searched for flights on Cleartrip.com the Air Asia flight was the first option that appeared as it was the cheapest. I jumped in joy when I saw the price. It cost me less than the Spice Jet(India's cheapest airline) flight I took to Mumbai recently.You know what I did ?It's obvious.I booked it.
We had to check in queue for 45 minutes.We saw people ahead of us in the queue going back and transferring/removing a few stuff from their suit cases.We knew something was wrong.Not everyone who was sent off seemed to have carried excess baggage.
Image Source:Pinterest.
In most airlines,the check in baggage limit for economy class is 15 kg per person for domestic and 30 kg per person for international.We had assumed that Air Asia would have the same limit and we had two suitcases weighing 18 kgs together.Guess what ?We were told that on the whole we are allowed to check in only 7 kgs and we would have to pay if we had exceeded that limit.We decided to check in just one bag and transfer all the items which are banned in the hand luggage into that bag.After this process,I had to wait in the check in counter and my dad had to wait in the payment counter for another 25-30 mins.They charged us 3000 Indian Rupees for check in(42 USD).We would have paid an additional 3000 if we had checked in the other suitcase too.
3.Getting my favourite scissors thrown off at the security counter
Image Source: Fabricland UK
That's exactly how my favourite scissors looked like .I have been using it for all my school and college projects as well as my embroidery work for the past five years now. This scissors cuts perfectly and it works like magic. My friends would always fight for this scissor while doing projects .I forgot to remove this from my suitcase which we had to end up carrying as hand luggage. This careless mistake was fatal-I had to part with this object which was partly responsible for giving me a high school and college degree as it was an active contributor in all my projects.
4.The international sim card store had closed down .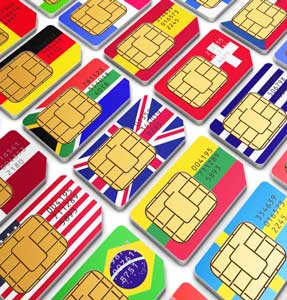 Image Source:World Sim
The international roaming plans offered by my network operator was ultra expensive.I figured out that getting a Malaysian sim would be much cheaper and I knew that they would be available at the airport.When I went there,I saw that the store was closed.I asked the guy in the next shop when it would open and he said it had closed down forever.I then requested for activation of international roaming in my Indian simcard but the request failed.Ultimately,I did buy a Malaysian sim at Kuala Lumpur airport for a very nominal rate.
5.I was stranded for two hours at Kuala Lampur airport and two hours in the traffic before I reached the hotel.
Image Source:Shutterstock.The Kuala Lumpur International Airport.
If the Kuala Lumpur airport were a person it would be god. I walked nearly 3-4 kilometres into the airport trust me.Which is probably why I was about to pass out in the immigration queue plus I didn't eat or drink anything for the past 12 hours other than a small cup of maggi noodles and an electrolyte drink .I had almost no sleep in the flight do read on to know why.After I was done with immigration and I collected my luggage.BAM !
But all these unfortunate events were replaced by even more fortunate events.So,philosophers were right when they said 'the world is grey.Not black or white'-:
1.I won the trust of a tiny adorable cuddly baby and got to spend time with her.
I love babies.I go really crazy when I see one. In the boarding queue I saw a woman carrying a tiny baby right behind me. The baby was overenthusiastic and the mother was clearly struggling having to mange the infant , a 6 year old child and tons of hand luggage . I greeted the baby and she reciprocated by touching my face, making overexcited sounds and pulling my long dangly ear rings .I carried her and she continued pulling my ear rings , I giggled and she giggled even louder . I removed my ear rings and she began targeting my passport and boarding pass lol !I put that into my bag with great difficulty and now she was targeting my bag strap. I put her on her mother's lap once she settled down in her seat.The mother conveyed gratitude to me and the baby waved an adorable goodbye.I still miss that cutie,I wish I get to meet her again.
2.Three empty seats in a row-not suitable for my physique though
Image Source:Seat Plans
When they announced that our flight was going to board nobody came beside me. I was super happy that I could finally sleep in the flight. The seats in the flight were long and wide .I have always had a problem sleeping in the seated position. It's not that I am a person who is used to too much comfort and luxury, this has just been a problem since childhood.I always end up feeling fresh the next day with no sleep the previous night during my travels.When I lay down I would either fall of my seat or bang my head against the window. I tried curling in different positions, folding my legs but nothing worked.I realized that this ain't such a thing to look forward if you're tall.So,if anyone complains about being short I am going to kill you. If I were short I would have slept peacefully that night.But,the good part is that me and my dad got to sit together.
3.I stayed at the best hotel I have ever stayed in my life so far.
Image Source : Visit KL
That's right . I stayed at Double Tree by Hilton in Kuala Lumpur. I'm not a millionaire , I am a broke college student . I wouldn't have gone gaga over Hilton if I were rich as it would have been a part of my daily life.I booked this hotel through Booking.com and it cost me Rs 3,500 per night(48 USD).I would only be able to afford a three star hotel at this rate in India.The facilities and services they offered was a lot more than the price we paid.It was amazing !I shall dwell into the details in one of my upcoming posts about this hotel.I took lots of pictures which I shall post.So stay tuned !